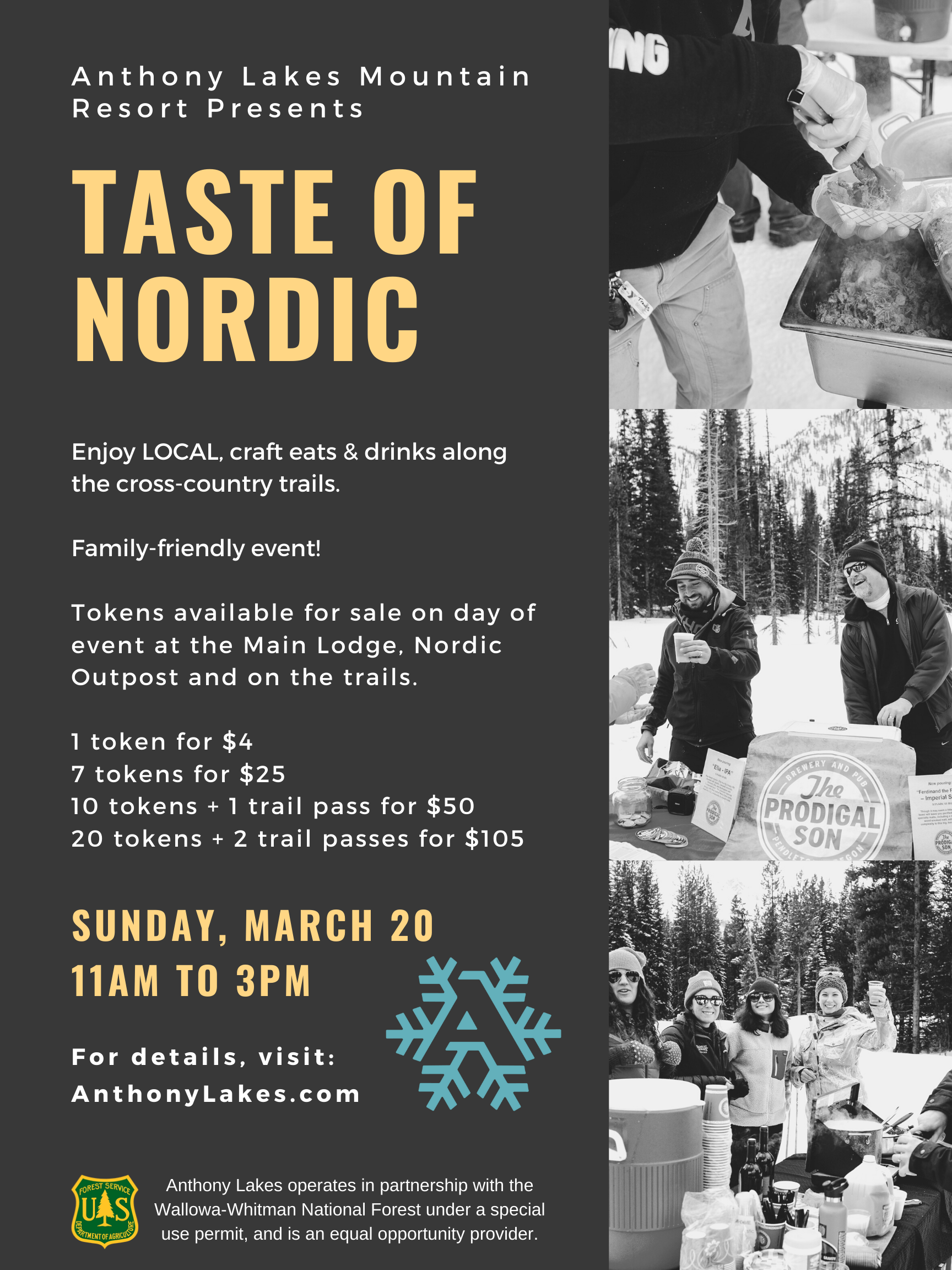 8th annual Taste of Nordic – What to know:
Below is information on the Taste of Nordic event. Aside from having a REALLY good time, please read below on what to know for the Taste of Nordic:
When? Sunday, March 20th, 11am to 3pm
Where? Anthony Lakes Nordic trails
How does it work? 
Buy a Trail Pass (unless you have a season pass) and tokens, the ski around the lower cross country trails to eat and drink.
This is a family-friendly event. Water and non-alcoholic beverages will be available throughout.
Those 21 & over must have a wristband prior to consuming alcoholic beverages. ID checks will be on the day of the event at the above listed locations.
How do I get tokens?
Pre-purchase tokens starting this Thursday, March 17th at the Retail Shop, Nordic Outpost and the Starbottle Saloon.
Tokens may be purchased on the day of the event at the Nordic Outpost, at the Main Lodge, and don't worry, we won't let you be empty handed. We'll be skiing around the trails selling tokens too.
How much do tokens cost?
1 token for $4
7 tokens for $25
10 tokens + Trail Pass for $50
20 tokens + 2 Trail Passes for $105
I need cross country skis or snowshoes. Where can I rent them?
Anthony Lakes Nordic Outpost on the day of the event, while supplies last.
The Mountain Works in La Grande
The Trailhead Baker City on Friday, March 18th. (Leave your skis at Anthony Lakes and we will return them for you since The Trailhead is closed on Sunday & Monday.
Confirmed vendors include: Prodigal Son Brewing (Pendleton), Side A Brewing (La Grande), Barley Brown's (Baker City), The Cheese Fairy (Baker City), Copperbelt Winery (Baker City), Glacier 45 Distillery (Baker City), Sweet Wife Baking (Baker City), Ten Depot Street (La Grande), The Lone Pine Cafe (Baker City), North Seven Brewing (Baker City).